Melbourne computer and laptop repair
Call 321-652-5630
Fully equipped work bench using the most up to date technology and tools to repair your computer when it becomes necessary to bring your computer or laptop in for service.
In most cases your pc can be serviced and repaired onsite in your home or business. However, from time to time it becomes necessary for your computer or laptop to be "benched" to correctly and more efficiently repair or upgrade.
I also use this work bench to build custom computers. Shop computer repair is by appointment only! Please call before coming in to arrange time and date. Pick up and delivery service is available as well and preferred. Call Mike at 321-652-5630 or use contact page.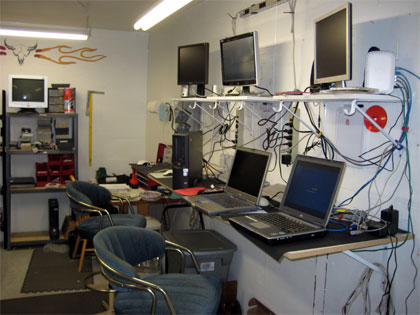 The work bench has 3 complete computer repair stations to keep production at a higher turnout rate.
When your computer is taken in for repair, the only item removed from your location is the tower or computer case.
Each computer work station is set up with a monitor, keyboard and mouse as well as a power cord and internet connection.
The power cord, monitor and all electrical connections are grounded and surge protection is in place to protect your computer and the devices used to repair it.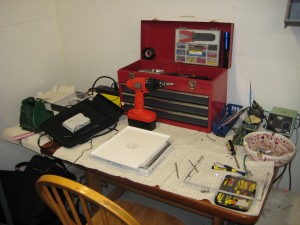 There is a separate table designed for laptop repair and soldering. I use this area to disassemble notebooks down to the motherboard and replace broken laptop DC jacks. I use a desoldering iron to remove the broken notebook power jack. Then after removal, the motherboard area is cleaned and the new power adapter assembly is soldered on. This repair is performed using flux and an adjustable heat soldering station.
Virus Removal , Motherboards , Research , Storage Devices , Routers , External Hard Drives , Upgrades , Operating Systems , Wireless Networks , IT Consulting , Computers , Network Equipment    , Maintenance & Service Contracts , Video Cards , Hard Drives , Used Equipment , Local Area Networks , Software Upgrades , Used Hardware , Peripherals , Computer Networking , Technical Support , DVD Recovery Disks , Parts & Supplies , Servers , CD-ROM Drives , Antivirus Software , Desktop Computers , Hardware Upgrades , CD Recovery Disks , Networking , Operating Systems , Troubleshooting , Testing , Software Installation , Disk Drives , Internet Security , On-Site Services , Laptops , Repairs , Maintenance , Pick-Up & Delivery Services , Business Services, Hardware , Search Engine Optimization, Wireless Networks , Email, Software , Local Area Networks , Maintenance & Repair, Search Engines , Memory , Modems , Virus Protection , Monitors, DSL setup , Hardware , Installation, Spyware Removal , Computer Hardware , Set-Up